The Trust has a working relationship with Hawkwood College, a beautiful educational, arts and residential centre in Gloucestershire. Most of the Mount Pleasant paintings, fine furniture and important books are now housed at Hawkwood, as is the office.
A preferential accommodation rate is available at Hawkwood for beneficiaries of the charity.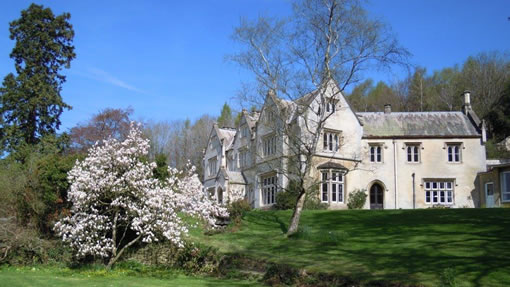 About Hawkwood
Hawkwood College, a building dated back to 1840, is located in the countryside, but is still only a few minutes away from Stroud Station. The House is set within 42 acres of beautiful grounds, and the centre is well known for its excellent food and welcoming atmosphere. Studio space, a piano, meeting rooms and other support can often be offered, and applicants to the Trust may be interested in contacting Hawkwood also about these facilities.
As well as supporting artist residencies, Hawkwood runs educational programmes, talks and festivals.
Artist Residency
The Trust also supports the extensive Hawkwood Artist Residency Programme through which Artists may be given time and space to work on particular projects alone or in groups.
Of this programme, Emma Betteridge, Bristol Old Vic, Ferment Producer, said
"It is completely invaluable. We are so looked after here. There is a major thing around having physical space to create in as well as having support from the whole staff team who are fantastic.
They are hugely engaged with what we are doing and really understand what artists need and what I as a producer need, I cannot speak more highly of this place. It's brilliant and there really is nowhere else like it in the rest of the country – no one doing it in the way these guys are doing it."
Please contact Hawkwood College directly if you are interested in this programme.